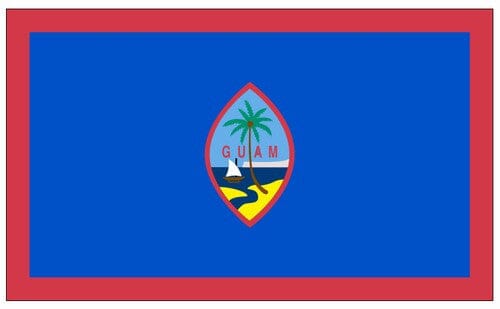 Guam Flag
Original price
$3.10
-
Original price
$280.85
Guam is an organized, unincorporated territory of the United States in the Micronesia subregion of the western Pacific Ocean. It is the westernmost point and territory of the United States (reckoned from the geographic center of the U.S.); in Oceania, it is the largest and southernmost of the Mariana Islands and the largest island in Micronesia.
Nylon:
Best Choice if flying in Sunny, Humid Location. Good for Daily use. Light Weight.
Polyester:
Best Choice if your location is dry and has Consistent High Winds. For daily use. Heavy Duty Material.
Header & Grommets:
A strong and thick canvas fabric punched with brass grommets. Most common for indoor and outdoor use. Will attach to most flagpole types.
Pole Hem/Fringe:
A fold over and hemmed opening for a flag pole to slide into. Mainly used with indoor pole sets.