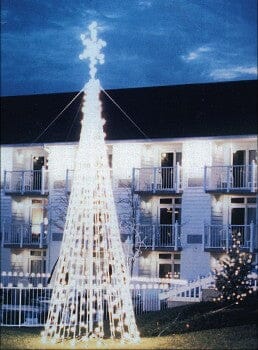 Outdoor Silhouette Trees
Sold out
Original price
$1,600.00
-
Original price
$5,270.00
Our incredible Empire Silhouette Trees will make an elegant statement in any setting! (click here for Guy wires) Every fourth lamp twinkles.
Assembles VERY FAST! Lay collasped tree on side and insert ridgepole to expand to full height, then simply stand up and plug in!

12' - 5' base/24" star - 1272 watts
16' - 6' base/24" star - 2162 watts
21' - 7' base/36" star - 3363 watts
25' - 8' base/36" star - 4545 watts

Upgrade to our L.E.D bulbs today! Use 90% less energy than standard bulbs. No filaments to burn or glass to break. They are brighter, use less energy, with approximately 100,000 hours of burn life. No need to replace bulbs every year. Try our new LED lights and start enjoying the savings.